Today, light is known by another name that starts with the same letter as light that is 'L' but ends with D, LED. Light has become synonymous with LED as LED is the newest technology that helps commercial units and residences to save energy. In comparison to traditional lighting products, LED products have useful and long life. What adds to its list of advantages is the fact that these products are compact, space saving, bright in light, low on maintenance and no periodical replacements requiring (As they serve for 2 years of span approx).
The idea that led to the formation of
Tijaria Led Industries
is user's requirement to save on their electricity bills. Our
2015
formed LED products manufacturing company cares for the future which is why it brings forth LED lights that do not produce ultraviolet radiation and saves users from spending a large amount on bills. We, as
manufacturer
, bring
Led Flood Light, Outdoor Led Flood Light, LED Spot Light, LED Street Light, LED Panels Light
, and related products into use for outdoor and indoor lighting.
We are a part of
Tijaria Group
, a famous group that was founded in 1982. The group holds outstanding experience and long-standing in the Indian Industry. Our company is performing well under Tijaria Polypipes Limited, our Flagship company, which is famous in Textile & Plastic Industries as well as operating in both National & International Market.
Since formation, we have been excelling in innovatively producing LED lights. We have a quality focusing team of designers, engineers, quality inspectors, packaging experts and more who work as one big team and render customers happiness through their team and quality work.
LED- A Smart Solution
From the total power generation in India, indoor and outdoor lighting in both residential and commercial areas consume 18% approx. The change in pattern of consumption can result in energy saving. Knowing this, we bring forth smart LED solution for our customers. This solution is not only reliable but also durable.
History
Our company is an important part of the trusted Tijaria Group. This group was formed with a thought of providing assistance to masses with quality development of many products and service in various fields.
Our Strengths
Production Setup- We own a strong unit in Vishwakarma Industrial Area of Jaipur, Rajasthan, to produce LED Spot Light, LED Down Light, LED Street Light, etc. The unit is spacious as a result of which large quantity LED production takes place on scheduled time.
Team- We have 15 active, hard working and smart professionals, who work better each day and make their quality work speak for their dedication to make customers happy.
Application
Our LED range finds suitable use in the following:
Airport
Educational Institute
Highway
Home
Hotel & Restaurant
Industries
Public Venue
Retail/Supermarkets
Tunnel and more
Customer Satisfaction
Positive feedback from clients gets us inspiration which is why we work with complete honesty and ensure nothing below 100% satisfaction is provided to each of our client. From good quality LED Spot Light, Led Flood Light, Outdoor Led Flood Light, LED Street Light, LED Down Light and other products to reliable after sales service, we pay heed to all and maintain strong bonds with all clients.
After Sale Services
We render After Sales Service to maximize customers' satisfaction and maintain healthy relationship with clients. Following are the key points of our After Sales Service:-
Free of charge repair service but within warranty period.
Fast response to all customers.
Warranty of 1 to 3 years depending on product type.
For non-artificial damage, we make accessible free accessories but freight charges to be paid by customers.
If the reason of product damage is wrong use then paid replacement is available.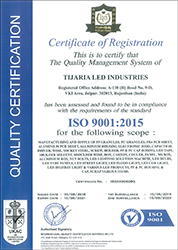 Read More